Sterman Realty has been the leading provider of Real Estate services on the North Shore for over 36 years! We specialize in Listings, Sales, Rentals and Vacation Rentals of fine real estate on the north side of Oahu (Kaaawa to Kaena Point).
With over 30 professional agents, and being located in the Historic Town of Haleiwa – Sterman Realty is the largest, full-service Real Estate company on the North Shore.
NAME RECOGNITION
Established in 1981 by Principal Broker, Richard D. Sterman, Sterman Realty has the most recognized name in real estate on the north side of Oahu. With name recognition and thousands of successful real estate transactions comes trust; no other company has listed and sold more real estate than Sterman Realty.
AGENT BASE
Whatever your real estate needs on North Shore, it is important to have the most dedicated and active agents who deal exclusively with this specialized area from Kaaawa to Kaena Point. From rentals to sales, mountain-top retreats to beachfront estates, a Sterman Realty professional goes the extra mile. A local company, Sterman Realty has chosen to never be a part of any national brands; our philosophy is simple – the sales and rental process is only as good as the individual agents who handle them. Consequently, it is little wonder that we have the most experienced and quality team of property professionals on Oahu's North Shore; North Shore real estate IS our business.
CROSS-MARKETING
Most Buyers and Sellers are already in touch with one or more of our Sterman Realty agents. Therefore, when we receive a listing, we already have access to an extensive, built-in Buyer list. When we work with a Buyer, we already have a built-in inventory list. As a result, we sell over 50% of our own listings. Furthermore, our extensive experience with North Shore Rentals and Vacation Rentals means that our discerning clientele not only get to know our quality inventory firsthand, but frequently become Buyers of North Shore properties through our office.
FULLY-STAFFED OFFICE
Fostering a real estate business based on teamwork, our friendly office of professionals and administrative personnel help make the individual agent's performance even more effective. Located in one of the busiest commerce centers on the North Shore, The North Shore Marketplace, our office offers easy parking and access to several popular eateries. We welcome you to drop by our office and see for yourself what makes Sterman Realty the best out here on the North Shore of Oahu!
FIRST HALEIWA OFFICE
(Sterman Realty, Circa 1985)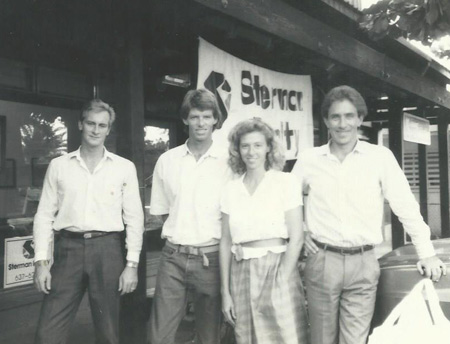 (MARK SULLIVAN, RICK WILLIAMS, CINDY THOMPSON AND RICHARD STERMAN)